Do you feel like you are constantly throwing money at Facebook Ads that are not delivering results? Without a Facebook Ads strategy, it can be challenging (if not impossible) to get a return on investment (ROI) on your Facebook advertising.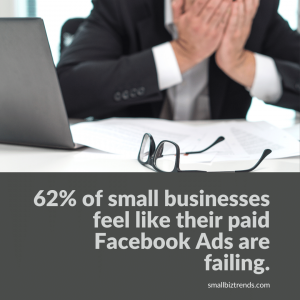 You're not alone. 62% of small businesses feel like their paid Facebook Ads are failing.
Why do so many small businesses feel like this?
Well, the Facebook landscape and how to use it effectively is always changing.
The Facebook algorithm (the secret formula behind posts, reach, and Ads) is never constant. And organic reach doesn't have the same value as it did years ago.
But, with 2.6 billion monthly active users, Facebook is the biggest social network. Your business needs a presence and a Facebook Ads strategy to be effective and get leads and sales.
Where to start?
Create a Customer Persona
To start a Facebook Ads strategy, you need to know your audience. It is essential to define your audience or "customer persona."
You probably have a rough idea of your ideal customers. They are generally the customers you have already attracted and converted.
If you are creating a new product or service, then your "customer persona," maybe someone who is not already defined.
How many "customer personas" do you need?
Create a range of customer personas based on your ideal targets.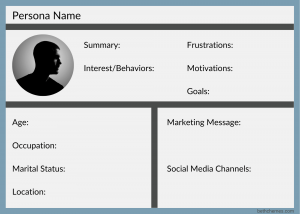 Think of things like age, gender, customer needs, demographics, and even values such as their opinions on matters related to your industry.
Key Point: Don't make assumptions when creating a customer persona. Research and make sure each customer persona you're targeting is interested in the product or service you offer.
Define Your Goals
You need goals to measure success with your Facebook Ads.
So, what are your goals?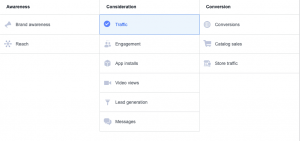 What's great about Facebook Ad Manager is that it can help you fine-tune the goals of your Facebook Ads.
Facebook Ad Objectives are broken down into 3 categories:
Awareness: Generate interest in your brand and an understanding of what you offer.
Consideration: Urge people to learn more information about your brand and your product or service.
Conversions: Encourage people already interested in your business to buy or use your product or service.
What do you want from your Facebook Ad? Sales leads? App downloads? Brand Awareness?
Defining these goals will determine what type of Facebook Ad you need (video, collection ads, Facebook Stories, etc.) and what features to display.
Make a Content Marketing Plan
As said by digital marketing expert Neil Patel, "Social Marketing is different than traditional marketing."
Facebook Ads are not like traditional ads you buy in your local newspaper.
You can't just buy the ads and expect results. You need a content marketing plan to put forth a profitable Facebook Ads strategy.
Content Marketing is about building trust. When you create relevant, educational, and helpful content for your audience, you position your company as a trusted brand.
What does content marketing include?
Educational articles
Videos
Infographics
Paid Ad campaigns need to combine with organic content marketing.
Organic content can build relationships with your brand, which will help your paid Facebook Ads encourage conversions.
Your Turn
Unfortunately, you can't just create a Facebook Ad and hope it brings you leads and sales. Facebook Ad success requires a strategy.
If you want to get results, you need a Facebook Ads strategy that includes:
Creating a Customer Persona
Defining Your Goals
Content Marketing
What's your biggest struggle with Facebook Ads with right now?