Why does having a business blog matter?
How are you marketing yourself online? Do you have a website showing off your products and services? Are you using social media?
As you may have realized, no matter the size of your company, creating an online presence is never easy. You are competing with everyone else and the online field is crowded.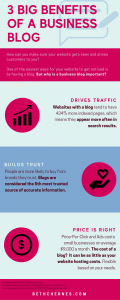 How can you make sure your website gets seen and drives customers to you?
One of the easiest ways for your website to get noticed is by having a blog. But why is a business blog important?
Think of a business blog as another channel for your business to connect with customers and market your products and services. It's an individual area on your website where you can create content that is useful for your audience.
Blog posts create strong connections with consumers. According to QuickSprout, 61% of US consumers have made a purchase based on a blog post.
So, if you think about it, every blog post could lead to a potential sale!
A blog is another tool in your inbound marketing toolbox that will bring in leads and grow your company. There are also 3 huge benefits blogging has for your business.
3 Big Benefits Blogging Brings to Your Business
1. A Business Blog Drives Traffic
So, you have a gorgeous and well-designed (maybe even expensive!) website, but you just aren't getting many visitors. Sound familiar?
Unfortunately, you can't just have a website and hope the visitors will find you. Websites need to be optimized for search engines (Google, Bing, etc.) and updated frequently. This is known as SEO (search engine optimization).
What does SEO have to do with driving traffic?
Search engines are looking for content on websites to index. They are looking for information that gives them an idea of what your website is all about. But most importantly they are looking for fresh content.
If your website has frequently written content about what you sell and your industry, your website will be easier to find when customers search.
More frequent content means more is indexed, and it's more likely your website will be higher ranked in search results.
How do you create content to be indexed? (A business blog!)
Websites with a blog tend to have 434% more indexed pages, which means they appear more often in search results.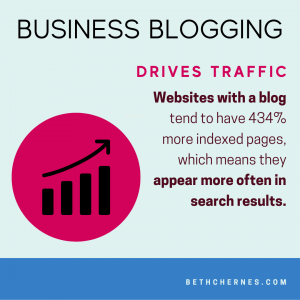 If your competitor is creating content to index, they are more likely to pop up in a Google search than you.  In fact, companies who blog receive 97% more links to their website than those who don't.
Don't wait for visitors to find you! Create content on your blog and drive business to you.
2. A Business Blog Builds Trust (… and relationships and conversions)
Content marketing is all about building trust. When you create relevant, educational, and helpful content for your audience, you position your company as a trusted brand.
People are more likely to buy from brands they trust. SproutSocial recently reported that, "when customers feel connected to brands, more than half of consumers (57%) will increase their spending with that brand and 76% will buy from them over a competitor."
Valuable content builds trust over time and keeps prospects close. According to survey data from Conductor, if the customer's journey down the sales funnel begins with educational content, they are 131% more likely to buy.
Even with declines in consumer spending due to COVID-19, 40% of consumers noted trust in a brand as the biggest influencing factor driving purchasing decisions.
What content is most trusted?
Blogs are considered the 5th most trusted source for accurate online information.
Companies and marketers continue to invest time and money into ensuring blogging is part of their online marketing strategy.
According to Hubspot, 53% of marketers say blogging is there top content marketing priority. Another 52% of respondents on a content marketing survey agreed that blogging is their most critical content marketing tactic.
Each blog post is an opportunity for your company to build trust through well-written and relevant content and a direct way to:
Convert leads to sales
Turn past customers into repeat buyers
5. The Price is Right
Are you looking for the best ROI (return on investment) for your marketing efforts? Well, a blog is a cost-saving option with big benefits.
The cost of starting a blog is affordable for most businesses because the bare minimum it requires is:
A website
Relevant and educational information to share (let your knowledge shine!)
That's it! Yes, really.
Hubspot noted that marketers who prioritize blogging efforts are 13x more likely to see positive ROI. In fact, B2B companies with blogs get 67% more leads than those without.
But maybe you are asking, "Why can't I just drive traffic through Ads?"
Google Ads, Bing Ads, and Pay-Per-Click (PPC) advertising are great options, but they require a long-term strategy and financial commitment.
What are the costs for Ads?
The average cost per click on Google Ads is between $1 and $2 on the search network.
The most expensive keywords in Google Ads and Bing Ads cost $50 or more per click.
The average small business using Google Ads spends between $9,000 and $10,000 per month (not including extra costs of strategy, platform, and maintenance).
To be effective, PPC and Ads require a substantial investment of time and money to develop and achieve success.
If you don't have a strategy, then PPC and Ads aren't going to drive traffic.  
But even if PPC and Ads aren't right for you now, it doesn't mean they aren't in your future. And a major (and low-cost) way to pave the way for that is by blogging.
Why? Because Blogging is going to help with your SEO, optimize your keywords, and drive organic traffic (unpaid traffic).  And organic traffic will support your website when it's time to invest in PPC and Ads.
Did you know people are more willing to click organic results over ads? 70% of the links searchers click are organic. People trust organic results.
People trust organic results.
The content you provide in your blog will give organic content that can help your ranking in the search engine.
A business blog is something you can start immediately with minimal costs that can generate organic traffic, leads, and sales to grow your company right now.
Wrapping Up
Do you read blogs? (You're reading one now!) I do, and so do most people.  75% of internet users say that they read blogs regularly, so, it's no surprise that businesses are investing time and resources into blogging.
Maybe it's time for you to start a business blog too, so you can:
Drive traffic to your website
Build trust and makes sales
Bring in leads with low costs
82% of companies admit that blogging is critical to their success. Will you be one of them?
Need help with your company's blog? Let's chat.