Are you looking to level up your digital marketing skills in 2020?
Like the algorithms in Google, trends in digital marketing are always changing.
Whether you are a seasoned digital marketer or a beginner, you've got to stay up to date with the latest digital marketing certifications and training. No one wants to be left behind!
Luckily, there are many digital marketing courses and certifications that are free (or not too expensive). They can help you stay on top of new trends and learn the "tips and tricks" from digital marketing pros.
These 3 digital marketing resources make it easier to help you grow your business, traffic and your career.
1. Google
As a leader in the search engine market (91.89% of internet searches are on Google), it's no surprise that Google offers its brand of digital marketing training.
Through Google Skillshare, you can check out a variety of training on Google Analytics, Google Ads (formerly Google AdWords), and Google Marketing Platform.
Noteworthy is the Google Ads certification.
If you work in the PPC industry (Pay-Per-Click), this is the certification to get! GoogleAds certification can give you an edge over the competition. Google Ads accreditation shows that you are an advanced Ads user and an expert in PPC advertising (and Google thinks so too).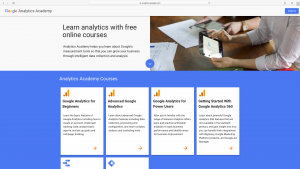 Price: Free
Time Commitment: Varies between 1- 4.6 hours
2. Hubspot
HubSpot is a full platform of marketing, sales, customer service and CRM software.
Whether your company uses the HubSpot platform or not, HubSpot Academy is an essential resource of digital marketing training.
Ask yourself, "What am I looking to learn about digital marketing?" and then go to HubSpot. They probably have training on it (or a blog post, article, guide, white paper…you get the drift).
HubSpot has many different training courses and certifications for all aspects of digital marketing.
Training offered includes Inbound Marketing, Facebook Ads, SEO (search engine optimization), and Email marketing.
HubSpot certifications demonstrate your knowledge in various areas of digital marketing considered well-respected in the marketing industry.
Why get HubSpot certified?
The number of people receiving HubSpot Academy certifications has
HubSpot Academy certifications are considered highly rated.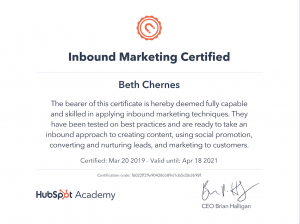 Price: Free
Time Commitment: Varies between 1 – 7 hours
3. Moz
There is no way to talk about digital marketing and not mention SEO.
If you are looking for training courses to brush up on your SEO skills or certifications show you SEO prowess, Moz Academy is where to start.
Do you work in SEO?
If so, you've heard of Moz SEO software (and maybe even use it daily).
If not, no worries, Moz Academy offers beginner training in SEO Fundamentals to get you up to speed in all things SEO so you can improve search rankings and drive traffic.
For the digital marketer with SEO experience, Moz offers the SEO Essentials Certificate Series.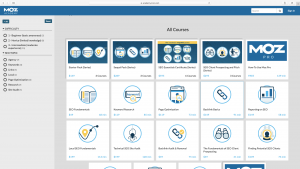 Price: Free through May 31, 2020, with the Promo Code: wegotthis (Does not include SEO Essentials Certificate Series); After May 31, course prices vary between Free – $595
Time Commitment: Varies, 1+ hours
To Sum Up
Training and certifications take time, commitment and focus.
But, above all, every training or certification is a huge step in solidifying your credibility as a digital marketer and helping your clients increase their traffic, customers and sales.
In short, go sign-up and grow your career!
Do you have any other digital marketing certifications that have helped advance your career? Are you looking into other digital marketing tools for your career?
Don't forget to share!