Do you want visually stunning, beautifully designed, and free content for your brand's social media channels?
Of course, you do!  And with these free (and user-friendly) social media graphic design tools, you can create amazing visual content immediately to get likes, shares and engagement on social media.
Why now?
Fun Fact: On average, 97% of digital consumers use social media each month.  With 50% of the global population using social media (roughly 3.8 billion people), it's more important than ever to make sure your brand is present and creating content on social media.
I know this sounds daunting (and expensive), but if you don't have the budget—don't worry. These free social media graphic design tools can get the job done at $0. The most important thing is to start!
Show Me The Social Media Graphic Design Tools!
1. General Graphic Design
Canva
We are all guilty of clicking on a post because of the cool infographic and cute cat photo (that's me!) associated with it.
Do images generate more engagement? For sure! A study by BuzzSumo showed that adding images to Twitter updates generated 150% more Retweets than using plain-text updates, and adding images to Facebook posts led to 2.3x more engagement.
So, where do you go to create your cute cat photo and boost your social engagement? That's where Canva comes in.
Canva is a graphic design tool that sits at home in your internet browser. It has easy-to-use drag-and-drop features that allow you to create professional layouts with only a few clicks.
Canva also has millions of free images you can access, photo filters, free icons and hundreds of fonts. One of the best features is that you can create custom designs specifically for a social media platform. No more guessing (or remembering) the image dimensions for each social network –Canva does that for you!
Check it out: www.canva.com
Pricing: Free, Pro ($12.95/month), Enterprise ($30.00/month)
Alternatives: Stencil, FotoJet, BeFunky
2. Infographics
Easel.ly
A study in TIME reported that the average attention span is about 8 seconds. 8 seconds isn't long to capture a consumer's attention –especially with all that competing buzz on social media (like those cute cat photos!).
Maybe you have interesting (possibly even complex) information to share in a social media post –how can you display it so your audience can easily digest it? Thank you, infographics! Easel.ly can help you effortlessly create infographics
Easel.ly is a design tool primarily to design infographics that are fun and engaging to read. The interface is easy with a simple layout. Every button is carefully labeled so you can get started right away.
Are you worried about designing your templates? Never fear! Easel.ly has thousands of templates already ready for you to open and modify yourself. With a few clicks, you can customize the templates with your brand logo, fonts, and colors.
Check it out: Easel.ly
Pricing: Basic (Free), Pro ($4/month)
Alternatives: Infogram, Venngage, Piktochart
3. Video Content Marketing
FlexClip
Did you see that cute cat VIDEO? Did you share it with all your friends? Maybe not, but someone probably did (It was me, sorry, not sorry).
The truth is that you want to create content that gets shared, and video is your most significant opportunity to make that happen.
Why video?
You want your audience to remember your product (and purchase it!) and video gets results:
Everyone is Doing It!
There's no time like the present to make videos. Social video trends are only growing, and by 2022, the number of videos crossing the internet per second will approach 1 million translating into 82% of all online traffic. (Social Media Week)
FlexClip: A Free & Easy Video Tool
Creating a video for social media doesn't have to be complicated or time-intensive. FlexClip makes it easy to create short videos to showcase your product and produce engaging content.
FlexClip is a cloud-based video maker that produces videos from photos, video clips, and music. You can add your images or use their vast media library of royalty-free media resources.
A lot of "free" video software claims to be free, but these "free" plans imbed their logo as a watermark on all your videos. Not with FlexClip! You can create free videos that look professional–no watermark.
FlexClip is one of the best tools of its kind, as you can create high-quality videos without paying for sophisticated video-editing tools.
Check it out: www.flexclip.com
Pricing: Free, Basic ($4.99/month), Plus ($7.99/month)
Alternatives: Animoto (watermark), Adobe Spark (watermark), iMovie (Mac/iOS only)
Time to Create Content
Now that you have these free social media graphic design tools, you can quickly get started creating visually stunning graphics for your audience to share, comment and love.
Not sure what content to create first? In my opinion, you can always start with a cute cat video and go from there.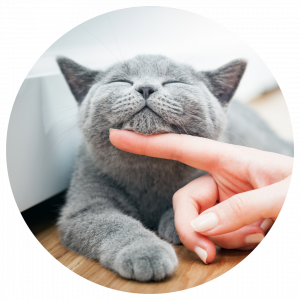 Do you need help planning out your social media strategy or creating engaging and content to attract your audience? Let's chat.