As a small business owner, you may find that customers often don't click on your website. This can be due to various reasons, but one of the most common is because your website copy is confusing.  Clear website copy is essential if you want to win customers and boost web traffic.
Here are seven website copywriting tips that can help:
1. Keep It Concise
Cluttered website copy chases away customers. So, take a look at the pages on your website. Is it chock full of stuffy corporate terms? Does it use too many long paragraphs? When it comes to website copy, less is more. Use short, concise sentences and avoid industry jargon. Keep it simple.
2. Use Active Voice
Passive voice is tedious and confusing. No one wants to read through a wall of text filled with dull, lifeless sentences. So make sure to use an active voice when writing for your website.
Ok, so unless you're a freelance writer (ahem) or an English teacher, you may not remember the difference between active and passive voice. So, let's break it down.
Active means the subject acts upon the verb:
The customer clicks your website.
In passive voice, the subject receives the action from the verb:
The customer is clicking the website.
If you stick to an active voice in your website copy, this will make your words more engaging and easier to understand.
3. Highlight Your Benefits
What can you offer your potential customers? What makes you unique?
When you're writing website copy, highlight the benefits of doing business with you. Remember that people are always looking for a solution to their problems (that's why they're on your website). If you provide them with the solution they're seeking, they'll be more likely to do business with you (instead of the competition).
4. Use Calls to Action
A call to action (CTA) is a phrase or sentence that tells your readers what you want them to do next. CTAs are essential because they guide your readers through your website and help convert them into customers. Whether it's a CTA that says "Sign up now" or "Learn more," you want to be clear about what action you want your customer to take.
5. Write for Your Target Audience
Who are you trying to reach with your website? Who are you trying to reach with your offer?
Close your eyes, think about who you envision, write it down, parse it out, and then write your copy to reach them. When you know your target audience, you can tailor your language to appeal to them. Write in a way that speaks to their needs and concerns.
How do you get them to click? Write to attract them.
6. Get a Second Opinion On Your Website Copy
Not sure if your website copy is up to snuff? Or, maybe you are looking to make improvements? You might be ready for a website copywriting audit. Seeking a freelance writer or SEO expert to look at your website and give you some feedback. An outside perspective can help spot errors or opportunities for improvement, so your website copy is clear and persuasive.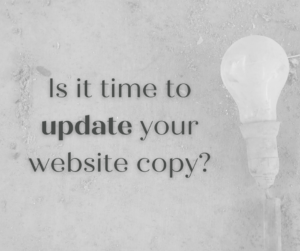 7. Keep Your Website Copy Up to Date
New location? New service? Update your copy regularly to reflect any changes in your business. You don't want your website copy to be outdated or inaccurate. This can reflect poorly on your business and confuse customers.
Don't Chase Away Customers With Cluttered Website Copy
Cluttered copy can put off potential customers. Too many words on the same page can make it difficult for visitors to find what they are looking for—and lead them to the competition instead. So, use these tips to write clear website copy that engages your customers and leads them to choose you.
Need help with website copy? I offer website copywriting services that can help improve your traffic and conversions. Get in touch today to learn more.