Need the right words to attract customers?
Don't let your website stand idle with copy that doesn't convert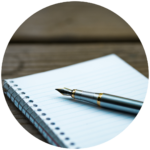 You're good at what you do—like, really good.
And you're ready to have your website showcase your talent and bring in leads. This means you need a website that makes your customers confident and comfortable about buying from you or hiring you.
But that doesn't mean you have the time or expertise to find the right words to create clear, compelling website copywriting by yourself.
It's not enough to have a website that looks pretty.
Attract the right audience with website copywriting paired with SEO strategy
Showcase your industry expertise in your distinct brand voice
Convert visitors into leads and customers
If your website isn't doing these things—we need to fix it! But when you're busy, how do you find the time to get it all done?
Say Goodbye to Boring Website Copywriting
Say hello to words that attract, engage, and convert
Now, imagine this.
Instead of having a website that chases customers away, your website instead:
Collects leads effortlessly
Converts first-time visitors into loyal, long-term customers
Communicates your brand story with ease
Inspires action and drives sales from organic traffic
Feels pretty amazing—right?
So, how can you transform your website into a captivating, revenue-generating machine?
Website Copywriting Packages
ESSENTIAL

Website Copywriting (no SEO)

THIS PACKAGE INCLUDES:

• A Messaging Strategy

• Custom Brand Copy Style Guide

• 1-Hour In-Depth Strategy Call

• SEO Website Copywriting (up to 5 pages)

• Wire-framed Copy Delivery

• Outlined Heading Structure

• Two Rounds of Revisions

• Two 30-Minute Collaboration Calls

Investment Starts at: $2,697

ULTIMATE

Website Copywriting + SEO

THIS PACKAGE INCLUDES:

• A Messaging Strategy

• Custom Brand Copy Style Guide

• 1-Hour In-Depth Strategy Call

• SEO Website Copywriting (up to 5 pages)

• Wire-framed Copy Delivery

• Outlined Heading Structure

• Two Rounds of Revisions

• Two 30-Minute Collaboration Calls

Plus…

SEO​ Strategy includes:

Benchmark Data and SEO Audit
CompetitorAssessment (3)
Website Optimization: on-page SEO for titles, meta descriptions, alt text, heading structure
Review/Set up Google Search Console and Bing Webmaster Tools
Keyword Research for
Blog post recommendations
1-Hour Debrief Call
30 days email support
SEO Reports for 1-month post project

Investment Starts at: $3,797

WEBSITE COPY AUDIT

SEO Copywriter tips and tricks to make your copy pop and get clicks.

THIS SERVICE INCLUDES: 

• Copy review of up to 5 web pages of your choice

• In-depth report that reveals

Detailed observations about your website copy
Actionable steps you can take to improve your copy to convert leads.

Investment Starts at: $497
Testimonials
What Clients Say
Beth was recommended to me when I was looking for a copywriter to update our website. Beth's writing abilities were clear right away, and her digital marketing expertise helped elevate our website. She is highly organized and hits her deadlines 100% of the time. Any time we need a skilled writer, we can rely on Beth.

Bennie Lewis, CPA

[Beth] brought critical thinking, research, problem solving, and senior decision-making to The Root Agency at a vital time of growth. She also created communications systems and implemented tools to streamline our workflow in our start-up environment. Beth is passionate about her work and invests all of her skill sets when she commits to a scope of work–going above and beyond. We would consider contracting Beth again in the future!

Natalie Root

I have worked with Beth on a few Marketing projects for the last three years. Her work ethic, attention to detail, and natural understanding of what a company needs to take the next step for success are rare qualities to find.

Wonetha Hall
Here's how it'll go
Website Copywriting from Start to Finish
While every service is tailored to your needs, here's a peek at what you can expect:
Step 1: Let's Chat
After you've had a good look through my website and you're thinking, "Yes, I want to work together!"—let's hop on a call. This way, we can make sure we're in sync and that I'm the perfect fit for the copywriting project you've got in mind.
Step 2:  Make it Official
We're a match! Woo-hoo! I'll review your budget, goals, and the desired outcomes we discussed on the call.  Then, I'll put together a customized proposal for you and your business. You can sign the contract and pay the invoice in one seamless process.
Step 3: The Adventure Begins
With the paperwork out of the way, I'll send over a welcome packet that includes your Copy Vision questionnaire. Your responses are due one week before we begin working on the project. This information will help me start my research.
Step 4: It's Go Time
We'll set up a kick-off call to go over the project timeline to make sure it stays on track and determine brand messaging and strategize our approach. Then, I'll jump into the main part of your project, doing research, reviewing your competitors, and understanding your client data. If your package includes SEO strategy, I'll also begin that part of the work.
Step 5: Writing & Editing
This the where it all comes together! You sit back and relax, while I jump into writing and editing your website copy. I'll also begin wireframing your website to give your designer a clear picture of the best layout for the copy. I'll also pop in the strategic SEO keyword phrases to speak the language of search engines. We'll work together, through revisions and calls, to get the best website copy that conveys your vision and meets your goals.
Step 6: Celebrate & Continued Support
After we've nailed your SEO website copywriting and celebrated its launch—that's not the end. I provide 30 days of support to answer any questions that might pop up after the project is complete, and I'm here if you need continued retainer services to keep your website generating organic traffic.
Compelling Copy
Copy that engages audiences and inspires them to take action.
Experienced Website Copywriter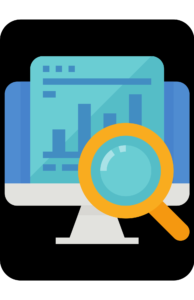 Copywriting that's written to the highest standards with in-depth research.
Original Web Copy
Unique content that aligns with your brand and vision.
SEO Friendly Copywriting
Writing that is optimized for search engines to increase your website traffic and conversions.
Active Communication
Clear expectations and updates so you never worry about the progress of the project.
Meets Deadlines 
Always delivered on time and in your preferred format.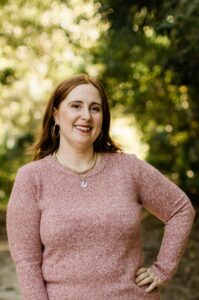 When it comes to digital marketing, I believe in a well-rounded approach that's all about two key things:
1.) Powerful messaging that truly speaks to your target audience.
2.) Smart SEO strategies that ensure your message reaches the right people.
I jumped into digital marketing and copywriting in 2017 when I saw an overwhelming need for small businesses small businesses to establish a strong online presence. As a website copywriter specializing in SEO, my passion lies in crafting captivating and SEO-optimized content that not only resonates with your audience but also drives real results.
I've refined my signature process to make sure my clients get the best results possible. Plus, I've got 100+ hours of SEO and marketing training under my belt, and I've spent countless hours perfecting my copywriting skills to help businesses grow and thrive.
But you know what really matters to me? Making sure my clients are super happy—no exceptions.
That's why I've put a lot of effort into creating a top-notch, tailored experience for everyone I work with.
When we team up, you can expect clear communication, total transparency, honesty, well-defined next steps, and easy-to-follow timelines. So, just sit back, relax, and enjoy the high-quality client experience you truly deserve.
Digital Marketing Certifications
Ready to get started?
Book Your Free Call
Contact me via email at beth@bethchernes.com or use the form below to find out how I can help your business!